TOPS: A Management Approach to Achieve Operational Excellence
Developed by Alchemy Systems, a nationally-recognized expert in plant management, TOPS stands for "total operational performance system." Its tiered approach is used to achieve operational excellence and is based on two fundamental beliefs:

1) All plants must focus on four key attributes in order of priority:
Safety


Quality

Yield

Productivity
2) No higher priority should ever be sacrificed to satisfy a lower-level priority.
There are three tiers of TOPS:
Level 1: Foundation of Customer and Regulatory Compliance
Before you can focus on performance, your company must first be able to meet customer expectations and be in compliance with all regulatory standards including FDA or USDA, OSHA, EPA, as well as GFSI, if applicable.
Level 2: Performance System There are three tiers of TOPS:
Once you've satisfied the first level, you can then develop a performance system to address the four key attributes described above. Your performance system will identify the top KPIs for each attribute which you need to measure, then set up practices for tracking them.
Level 3: Continuous Improvement for Operational Excellence
Finally, to reach operational excellence, you must start raising your targets by setting goals in specific areas.
Unfortunately, in many facilities, upper management tends to overemphasize one specific attribute (typically productivity). This skewed approach can result in sacrifices in quality, yield, and safety with serious consequences. Thus, it's important to focus on all four attributes in the correct order. In addition to the four attributes -- safety, quality, yield, and productivity, there are also four cultural components that drive operational excellence. These include:
Commitment to the company and processes needed to drive continuous improvement

Behavior, which refers to encouraging and engaging employees to do the right thing even when no one is looking

Teamwork and the ability to manage personnel effectively and encourage them to set their own goals


Service to customers, peers, and the company overall
With these key elements in place, you can then begin setting KPIs that maximize ROI and profitability. We'll start by looking at the most important attribute: safety.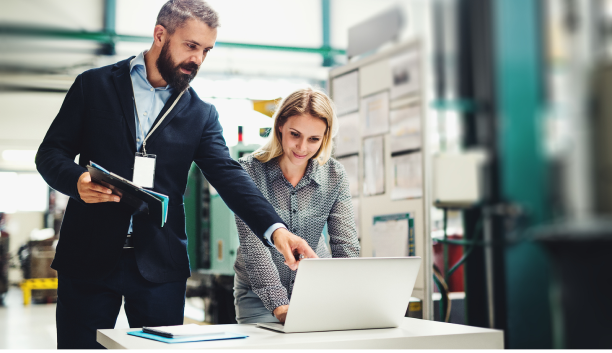 Ensuring the Safety of People & Products
Food companies have two primary obligations when it comes to safety. They must not only ensure the safety of their food products, but they must also keep their people safe.

Most importantly, food manufacturers must do everything possible to avoid injuries, deaths, and illnesses are caused by their products or environment.

To enforce effective human safety, employers must provide a safe work environment and encourage safe work habits among their employees.
To facilitate effective food safety, they must promote proper employee product handling through validated procedures in a sanitary environment. As we all know, human and food safety failures can have catastrophic impacts, which is why safety KPIs are the most important to satisfy.
Workplace & Food Safety Systems KPIs



Although each facility is different, these are some of the most common safety KPIs to track.
Human/Workplace Safety KPIs
Total incident rate

Lost time incidents

Workers compensation costs

Quantity of accidents and near-misses


Quantity of OSHA and EPA non-compliances
Food Safety KPIs
Customer complaint trend analysis

Microbiological trends

HACCP CCP/Preventive Control deviation history


Regulatory compliance

Internal and external audit compliance


Recall avoidance and foodborne illness prevention




Of course, while safety is paramount in food and beverage facilities, it often goes hand-in-hand with quality, which brings us to our next point: quality.

Maintaining Quality
To meet and exceed customer requirements and expectations, your food and beverage facility must achieve consistent quality. Simply put, consistent quality keeps satisfied customers buying on a continual basis. This leads to repeat sales and product line growth. In an effective quality system, each employee accepts responsibility for and contributes to product quality.
Quality System KPIs
Chances are, you already have some of the following quality KPIs in place in your facility. Yet, there could be some you're overlooking which, when addressed, can add significant value. Here are some of the most important quality KPIs to measure.
Right-first-time pass rate


Customer complaint trend analysis

Nonconforming product, including incidents, quantities, and cost

Supplier quality cost

Customer reject RMA cost check Sensory evaluations %


Shelf life results % check Label compliance %
Once you're able to satisfy the most critical safety and quality KPIs needed to drive improvement, you can then begin focusing on yield. We'll discuss tactics for maximizing yield in the coming segment.

Maximizing Yield
By maximizing the quantity of product going into finished packages and minimizing waste and product giveaway, your company can realize significant savings and revenue growth opportunities. In fact, maximizing yield offers a greater return on investment than productivity increases, which is why it's positioned higher in terms of priority among all four attributes. Effective yield maximization requires you to establish yield standards and measurements, control waste, and perform yield reporting. This can be achieved by tracking important yield KPIs.
Yield KPIs
In general, yield KPIs are fairly straightforward. Here's what your facilities should be tracking when it comes to yield:

Process yields at every step of the manufacturing process, as well as packaging and total product

Packaging check Product net giveaway

Product waste loss process %


Overall waste loss %
Lastly, but certainly not least, you can direct your attention to productivity when the other three attributes have been addressed with the KPIs described thus far.
Maximizing Productivity
An effective productivity system encompasses standards for staffing and efficiency, as well as line efficiency reporting and total labor recovery.
Productivity KPIs
Line standards, outputs, and efficiencies

Volume throughput check Capacity utilization

Total labor recovery

Overall equipment effectiveness (consistency of production availability of time multiplied by production rate, multiplied by your quality factor, or AxPxQ)

Department and line staffing standards

Schedule attainment and changes

Maintenance availability (downtime/operating)

Customer fill rate and on-time delivery rate
How KPIs Lower the Cost of Quality & Corrective Actions
Cost of Quality



In particular, the costs associated with quality are often among the biggest challenges with which food companies must contend. Quality costs encompass internal failures and external failures, as well as prevention costs and appraisal costs.

Using KPIs helps to lower the cost of quality by allowing you to invest wisely in prevention costs while simultaneously reducing internal and external failure costs. It also provides the opportunity to spend appropriately, but not excessively, on appraisal costs. After defining key quality KPIs, you can better measure and track quality costs and perform cost trend analyses. Your findings can then be demonstrated to senior management to showcase the effectiveness of your organization.

The goal of a quality cost system is to make the cost of quality as low as possible. On one end of the spectrum, there is a high cost of quality, in which addressing failures demands the greatest portion of your quality spend. In this scenario, customers find defects or deem your products unacceptable. A less costly alternative would be for defects to be spotted and corrected internally. At the other end of the spectrum is the least costly option: The company's quality system is designed, planned, and organized for defect prevention and continuous quality improvement.


Effective Corrective & Preventive Actions

KPIs also improve the quality system by enabling the use of effective corrective and preventive actions. Instead of putting out the same fires again and again, analyzing key quality metrics prompts you to address the root cause of a problem. You can then build a corrective and preventive action process around your findings so that when something goes wrong, its root cause – and not just its symptom – is prevented moving forward.

The methodology for identifying the root cause should depend on the severity or type of incident. For example, there are the "5 Whys." This process simply involves asking "why" five different times to trace back to the root cause. After identifying the root cause, establish the right corrective actions to fix the problem and to prevent it from happening again.
Regulatory & Audit Standards That Can Affect KPIs
Being certified to GFSI is another way that can help your company establish and track KPIs. GFSI standards require certified companies to set objectives for food safety and quality systems. Objectives might include audit results, complaints, corrective actions, microbiological results, recall and illness avoidance, and more. During management review meetings, input can be given for review, discussion, and improvement of these targets.

Even if your company is not GFSI certified, there are still regulatory standards set forth by the FDA and USDA for pathogen performance, zero tolerance, environmental monitoring, and recall prevention which can help shape your KPI practices.

Next, we'll discuss ways to measure continuous improvement and incentivize performance in your facility.
Measuring & Incentivizing Continuous Improvement
In order to measure success in your company, start with the KPIs that are most relevant to your operation. Typically, these should be the KPIs promising the greatest ROI. Write at least five specific objectives for each of the four main attributes: safety, quality, yield, and productivity.

Next, determine how to measure your KPIs. You might evaluate your facility's history to target performance or establish a new measurement for determining baseline performance. Once the baseline has been established, you can then set a goal for continuous improvement.

In organizations relying heavily on traditional, paper-based systems, tech-driven tools like SafetyChain enable the ability to measure food safety quality systems with ease. With SPC capabilities, modern technologies like SafetyChain simplify the measuring of net weights, tracking performance against specific requirements such as size, and enhances overall visibility to support food safety and quality control processes.

TOPS Implementation for Continuous
I
mprovement
When your company is ready to implement a TOPS program to help you drive continuous improvement, consider taking the following phased approach:
Phase 1 (Optional): Supervisory training and culture assessment

Phase 2: Gap assessment and TOPS training

Phase 3: Line optimization or pilot project


Phase 4: Scaled rollout
Sign Me Up
Join our list to get Industry Webinars Invites, E-Guides, Customer Success Stories, and More.