About:
As COVID-19 has dominated the headlines in food and beverage manufacturing in 2020, executives are now looking ahead to what the next year brings. Understanding consumer drivers and regulatory impacts across a disrupted industry are critically important to laying the foundation for continued success while mitigating new risks in supply chains.
Dr. David Acheson, Founder and CEO of The Acheson Group, explains how the regulatory landscape is getting more aggressive and how to prepare for potential changes. He'll present an outlook for 2021 that exposes the growing complexity in an already-bulging food safety industry and its impact on risk for executives.
Whats Inside:
This guide also covers lessons learned from the pandemic and how producers have to use tools and data in new ways to cope. Download the 2021 Food Safety Landscape Overview to get emerging industry trends and insights that will support your team's strategy during 2021 planning sessions.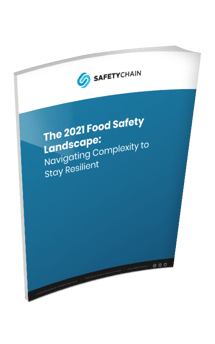 The Changing Food Safety Landscape
Supply Chain Risks
Emerging Threats
Consumer- Related Challenges
Litigation
Whole Genome Sequencing
Product Tracking
FDA Inspections
FSMA
FDA's New Era of Food Safety
The Far-Reaching Impact of COVID-19