About this Case Study
Whether it's eliminating inefficient paper processes or providing transparency with real-time data, the benefits of technology are becoming well known in the food and beverage industry. But do you ever wonder how a leading F&B processor successfully implements new technology to transform their operations? Or if it really works?
This customer case study depicts how Albertsons, one of the largest retailers in the country, used SafetyChain to transform food safety and quality operations in 18 of their food processing facilities.
Senior Director of Food Safety & Quality Manufacturing, Mark Salimbene, shares the challenges they faced, how they approached the process of implementing technology and the resulting benefits.
What's Inside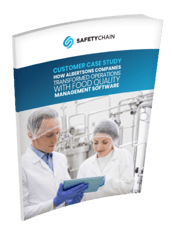 How Albertsons determined the key drivers (and built their business case) for implementing a food safety & quality solution
Considerations/challenges they have to address prior to implementation
Factors that drove success of the project and rollout across the organization
Key learnings from the project