About the eBrief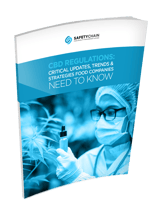 Nowadays, CBD products are available everywhere you look. From delis to health food stores, supplements and other products containing CBD can be found on the shelves of countless retailers and are widely available online. With the increasing availability of CBD products, one might assume that
these items are entirely legal. After all, why else would they be so easy to acquire?
It turns out that the legality of CBD products isn't so straightforward. While regulatory updates like the 2014 and 2018 Farm Bills have aimed to clarify laws surrounding hemp products, a "gray area" still exists or consumers and producers alike. Between the USDA and the FDA, keeping up with the regulatory andscape can be challenging. Do your operations fall within the scope of what's legal, at both the federal and state level?
Whats Inside:
In the following pages, we'll discuss key topics on CBD regulations, including:
The differences between cannabis and hemp
The 2014 & 2018 Farm Bills and what they mean for growers
The FDA's oversight of CBD products
A look into FDA enforcement, both historically and moving forward
Guidelines to help you avoid enforcement action and safety hazards