About the eBrief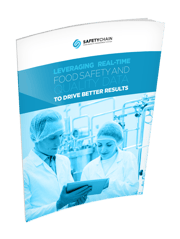 In this exclusive ebrief, learn how food and beverage
companies are becoming more strategic in how they manage their data. Leading companies are shifting to real-time data management systems. Not only does it make it simpler to keep every piece of information in one centralized location; a real-time data tool also helps turn static data into actionable information that can help companies move from a place of reaction to prevention.
In this guide we will share best practices and ideas that reveal how real-time data tools can help you drive better everyday results in your company and in doing so, improve efficiency and reduce risks.
What's Inside
The power of real-time data in food and beverage companies
The challenges and risks associated with not using real-time data
Ways to get the data intelligence you need for better results
Case studies illustrating the efficiency of real-time data