Mistakes, Insights, & Advice from the Experts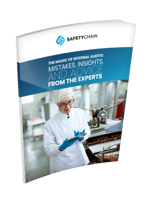 Internal audits — if conducted the right way — aren't merely stepping stones to higher-stakes external audits, they're strategic tools used by the most successful food manufacturers to measure continuous improvement and validate their entire food safety system. But, many food companies don't know the secrets to making internal audits a transformative experience, so instead they become just another nuisance to endure.
What's Inside
In this guide, food safety and quality expert Jeff Strout (Merieux NutriSciences) shares hot topics, expert insights (including the "wow factor"), and critical components of robust internal auditing systems that are needed to drive continuous improvement.
You'll learn
Crucial steps in your audit process that you may be missing
Keys to selecting and training the right internal auditor
Common mistakes made in conducting internal audits — and how to avoid them
Best practices for responding to regulatory inspection and third-party auditor findings