About the SFCR Guide
The Safe Food Canadians (SFC) Act went into effect for most commodities in January of 2019. Yet, many food companies both within Canada and outside its borders are still left wondering whether they're fully prepared for this new regulatory landscape, and if not, what they must do to comply. While the major pillars of the SFC Regulations (SFCR) largely parallel the U.S.'s own Food Safety Modernization Act (FSMA), there are also some critical differences to consider.
This guide is useful for any company in determining what they must have in place for SFCR, including the changes they can make quickly to prepare for successful inspections.
What's Inside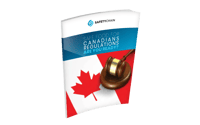 Background and drivers for SFCR
Highlights of the act
Licensing, Preventive controls, Traceability
Tips to prepare for the transition