The COVID-19 pandemic is unfolding as one of the most significant events in recent history. Virtually every industry will be affected to some degree, with certain sectors seeing more immediate impacts than others. Food manufacturers, in particular, have already had to shift their operational strategies to meet evolving demand changes, including an increased emphasis on retail products as consumers scramble to fill their pantries and restaurant business slows.

Currently, there are still many unknowns about the overall impact the pandemic will have on the food industry. Yet, we can make some inferences based on what we've seen so far, and use historical examples and economic frameworks to develop an understanding of what may lie ahead.
Let's begin with a brief overview of how COVID-19 is impacting the economy overall.

The Overall Economic Impact

With non-essential businesses being shut-down for several weeks and the general public advised to stay at home, it's clear that the overall economic impact of COVID-19 will be substantial. As of the time of publishing in mid-April, the U.S. had shelter-in-place orders in effect for 42 states. Throughout the month of March, the stock market saw a 35% decline, and unemployment claims were at a record high, spiking to more than 500% of previous recession records.
To put the magnitude of the epidemic into perspective, consider that the U.S. economy (GDP) is approximately $21 trillion, and the Coronavirus Relief package is $2.2 trillion—more than 10% of the total economy. The food sector is an important part of the economy, as its value is $1.7 trillion.
Demand Changes

In response to self-isolation and social distancing measures, the U.S. food system is undergoing an extremely rapid shift from food away from home (FAFH) to food at home (FAH) purchases. While these economic circumstances are certainly unique, we can look to the Great Recession for some insights as to how market changes could play out. From 2008 to 2010, there was a 7% drop in total food expenditures and a shift to FAH, with less emphasis on FAFH purchases. There was also a rise in food insecurity, or the difficulty families face in getting food on the table. In 2009, 14% of households had trouble getting food on the table. [i] Food insecurity was only restored to its pre-recession level in 2018.[ii] Should the economic pressures surrounding COVID-19 persist, we could see similar challenges.

Of course, the circumstances surrounding the COVID-19 pandemic are entirely unique. For example, consumers are adopting a hoarding mentality, and there has been an increased demand for storable and freezable products as a result. There has also been an explosion in delivery culture: on-demand platforms for grocery and restaurant deliveries are scrambling to keep up, hiring new personnel as quickly as possible. Category collapse is taking place as well: with the hoarding psychology, there's less of a demand for specialty items, and as a response, manufacturers are shifting their focus to core brands and products.
While there are many uncertainties surrounding the pandemic's impact on the food industry, there are some trends we're already seeing take shape. Using mobile phone traffic pattern data, Safegraph has tracked foot traffic and given us a glimpse into what might be happening in the restaurant sector.
From 2019 to 2020, traffic has unsurprisingly had a drastic shift downwards. Yet, it hasn't dropped off completely, as some creative restaurants are offering curbside pickup. Counter-service restaurants that stay nimble could save more of their sales, but the impact on the restaurant industry will still be significant and reverberate throughout the supply chain. Findings from OpenTable back this up, showing that reservations have nearly disappeared across their restaurant network.[iv]

The question then remains: How are supermarkets and general merchandise stores being affected? While Safegraph data shows that there was a significant surge in traffic around mid-March—when consumers were stocking their pantries and freezers—it has since dropped off as consumers have built their stockpiles. Foot traffic in big-box retailers like Walmart, Costco, and Target has likewise declined.[v]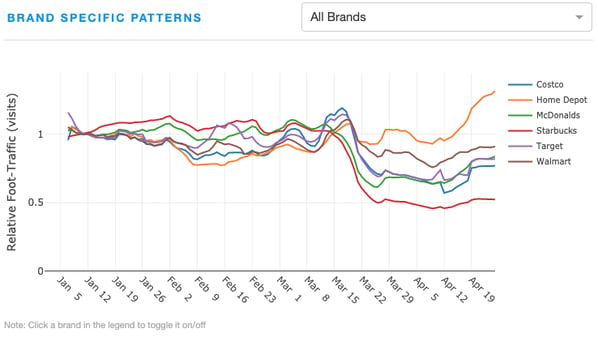 Creating a Strong Food Safety Plan
To adapt to changing purchase patterns, food manufacturers, and others in the supply chain must be flexible. Yet, it isn't always easy to stay prepared when you're relying on materials from suppliers, and their ability to source goods is being affected. Import accounts for 13% of the U.S. food supply and is particularly important for fruits and vegetables. Disruptions in international sourcing are posing challenges, and companies are witnessing shortages in essential supplies such as packaging materials.

Food companies are also facing labor challenges everywhere from the field to the factory. The need to quarantine sick employees causes disruptions, and the social distancing measures which call for spacing out employees may slow harvesting and processing. Moreover, processing services for the H-2A program, which allows agricultural workers from foreign nations to fill temporary roles, were delayed by the closure of U.S. consulates in Mexico. Steps are being taken to streamline processing under this program for those workers who have previously qualified.

On the logistics side, there have been challenges such as services being closed down along truck routes. And, in an effort to reduce waste in recent years, companies have created shorter pipelines which have emptied rapidly with the current surge in demand.
With that being said, while people may not be flowing across borderlines, food and other products still are. For example, we're still importing fruits and vegetables from Mexico and partaking in cross-border trade with Canada for ingredients, processed products, and livestock. Disruptions in this trade would impact the food supply, but the extent of that impact will depend on the length of time for which the epidemic persists.
If we look overseas for examples, we find that China, the nation where COVID-19 first appeared, is seeing a decline in exports.[vi] There has also been a decline in Europe as well. Chances are the disruption for sourcing material from these nations may last four to six weeks before returning to normal.
Of course, the impact of COVID-19 may naturally play out differently across specific areas in the U.S. For instance, certain metro areas are positioned to be the least affected, especially in agricultural communities like Madera, CA and Yakima, WA, where less than 10% of the workforce is in affected industries.[vii] O the other end of the spectrum, businesses in the tourism and leisure sector, including restaurants, will be most affected. As a result, supply chains have been and will continue to be disrupted. In particular, restaurants are experiencing the most noteworthy impacts in the areas of:

In-store operations changes

Sourcing contingencies


Travel policy/restrictions

Requests to supplies for information


Contact changes
Food manufacturers, too, are seeing their own areas of impact:

Travel policy/restrictions

Operator communications

Manufacturing impacts

Sourcing contingency planning


Factory operations impacts[viii]
As food companies navigate these new conditions, leveraging both policy changes and new innovations will be integral to maintaining success.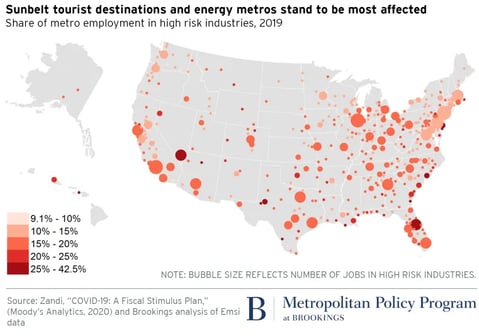 Policies
Federal
Policies at every level are changing day by day. In mid-March, agriculture and food workers were deemed essential by Homeland Security. Yet, many supporting industries were shut down, so Homeland Security has since reevaluated many sectors. For instance, truck stop restaurants have been declared essential and were reopened to assist logistics.
At the federal level, the Coronavirus Relief Package (CARES Act), which was enacted on March 27, 2020, gives people on unemployment more weeks of eligibility and will provide $550 million in direct payments to households. This, in turn, will shore up consumer demand, particularly for food.
Food Assistance: CARES Act
The CARES Act will also provide $25 billion for food assistance, and $15.5 billion in additional SNAP funding (an increase of about 20%), as well as $8.8 billion for child nutrition programs. These funds are allocated simply to meet the expected expansion in participation; there is no increase in benefit levels. The proposed rule on work requirements for SNAP has been suspended, and this will not reduce SNAP participation as feared.
In addition, $350 million will be allocated for Emergency Food Assistance, with $100 million going to Native American reservations and $200 million going to Puerto Rico and other territories. These funds will support direct food distribution, such as through food banks.
In terms of food assistance delivery, school programs for free and reduced-price meals are instituting new procedures for curbside or off-site pickup. A new rule has been introduced to allow pickup without a child present, and states can also issue these benefits in EBT form so that school lunches will resemble SNAP benefits so that they can be spent at grocery stores. There are also new partnerships to deliver food to rural children. The new flexibility in rules also applies to Child and Adult Day Care Feed Programs.
The USDA was already experimenting with SNAP online ordering prior to the COVID-19 outbreak. Now, they're partnering with Amazon, Walmart, and Safeway in states like Alabama, Iowa, New York, Oregon, Washington, and California to implement online ordering.
Food spending has some of the most direct stimulus effects in the economy. A recent USDA/ERS study shows that $1 billion in new SNAP benefits would lead to an increase of $1.54 billion in Gross Domestic Product (GDP).
Federal Aid to Small Business: CARES Act

Federal aid will also be given to small businesses. There will be $14 billion in additional funding for the USDA to keep meat plant inspectors and plant/animal disease quarantine officers available. More importantly, $348 billion in loans will go to companies with fewer than 500 employees. These loans will be forgiven if workers are kept on payroll, and funds are used for salary, rent, and insurance. There will also be a provision to allow franchisees to benefit, even if national chains don't qualify, which is particularly helpful in the restaurant sector.
The CARES Act also includes a tax code fix for the restaurant industry to allow immediate depreciation for property renovations.
Federal Aid to Farms: CARES Act

The CARES Act will also allocate $23.5B to the USDA for support for farmers. There will be $14 billion in expanded funding for the CCC to replenish the trade relief program, which was underway before the pandemic to compensate farmers for losses from trade disputes. In addition, the CARES Act provides farmers with more flexibility in applying for loans or deferring payment. There will also be $9.5 billion in specific funds for livestock and horticultural producers harmed by the pandemic.
State & Local
At the state and local levels, there has been some experimentation in terms of adopting policies to make more labor available and support businesses. For example, some areas have established work-share programs to retain the workforce and allow for unemployment benefits, even when employees work for up to five hours per week. Additionally, some state governments are offering essential workers, including those in the agricultural and food sectors, access to better benefits, including child care in Vermont and Minnesota.
Much-needed support is also being put in place for the vulnerable restaurant sector at the local level, including tax holidays and flexibility of liquor laws. Some areas are allowing for the delivery or take-away of liquor products, for example.
While taking advantage of stimulus funding can certainly help businesses in their financial stability and recovery efforts, there are also many ways food and beverage companies are already taking matters into their own hands. With an innovative approach, the companies discussed in the following section are responding rapidly to unprecedented challenges.


Innovation & Adapting to Meet Demands

To meet recent evolving demands, the food industry has had to adopt entirely new operational strategies. Many manufacturers are operating around the clock, and limiting production runs to key stock units. While there are typically about 26 days of food supply in the system at any given time, this major disruption has forced companies to accelerate their production efforts.
In particular, meat processors, while still active, are likely the most vulnerable to worker shortages and disruptions. Margins for U.S. beef processors hit a record high of $580 per head on March 23rd, up from about $170 the previous week, but April live futures fell about 7% as traders worried that COVID-19 could wind up shutting down slaughterhouses. Margins climbed with a wholesale jump of 20% in early March.[ix][x] At the time of publication, at least two major meat packing plants were shut down due to the emergence of COVID-19 in the workforce.
Within recent weeks, food retail sales, in general, have jumped 20% to 100% amid demand surge, with fresh categories, including meat, lagging. According to Barclays, the performance has been at least as strong as that of a typical holiday season.
As manufacturers shift their product lines from FAFH to FAH, the FDA and USDA have relaxed labeling requirements to move items into grocery stores. Consumers may find larger batches of meat than they normally would at the supermarket, for instance, as companies shift their packaging efforts to quickly meet demands. Canned goods intended for restaurants may also be sold at grocery stores without meeting all of the consumer labeling regulations.
Retailers are also continuing to hire employees, but mainly on a temporary basis. They are offering improved wages and other benefits to attract employees. Concern about worker safety and exposure to the public is increasing, prompting changes in store layouts, protective barriers, and mandated use of masks and gloves.
Analysts have warned that if other countries are any indication of the trends we can anticipate in the U.S., sales will slow significantly when consumers have completed building their stockpiles. Sales in China and Italy have started to decline, for example.
Yet, while certain sub-sectors will inevitably be hit harder than others, many businesses are still finding ways to adapt.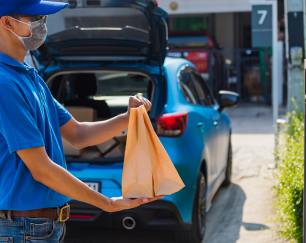 Delivery & Online
Where allowed, many restaurants are staying open to maintain some business through delivery and online orders. They have also become increasingly innovative in getting products to local consumers. For instance, some have partnered with local wineries, breweries, or distilleries to offer joint delivery. Many have also adopted touch-free delivery protocols in shelter-in-place cities.

For mega-retailers such as Amazon, grocery delivery volumes have increased substantially. As a result, they have shifted to prioritizing deliveries for essential products. Small and midsize food manufacturers and farms have seen consumers moving to online platforms at unprecedented rates, but contending with big platforms such as Amazon is challenging. Nonetheless, new food platforms are popping up online, such as barn2door.com, to help smaller operations get their food into the hands of local consumers.

Leveraging Technology

Part of embracing innovation in challenging and hard-to-predict circumstances involves leveraging available tools, such as technology. SafetyChain, for one, is a plant management solution helping food manufacturers mitigate the effects of COVID-19 in the following ways:
Leveraging Technology

Inspect Suppliers

Prioritize Employee Health & Sanitation, Including Regular Documentation of Health Screenings
Facilitate Exchange of Critical Information During Shift Changeovers Without Close Personal Contact
Manage Remotely - Including Auditing

Reduce Waste at Time When Every Savings Counts

Reduce Time-to-Market

Minimize Production Errors


Stay On Top of Food Safety Requirements
As the food industry adapts and becomes more agile, these features help companies anticipate any roadblocks so that they can sidestep major delays or shortages and continue to get their products to market in a timely manner.
For instance, one SafetyChain customer, a large chocolatier, immediately began using the program's private supplier portal to roll out a questionnaire asking suppliers how COVID-19 would affect their ability to continuously provide raw materials. SafetyChain also helps to promote plant-wide safety with tools such as checklists to screen the workforce for any symptoms of illness or other concerns. Meanwhile, it continues to allow plants to prioritize the safety and quality of their food through remote auditing capabilities, real-time analytics, and mobile forms.
Another customer, a producer of best-selling retail frozen pizza, Asian entrees & appetizers, and iconic all-time-favorite desserts, is using SafetyChain to monitor the pulse of the plants that they don't have immediate physical access to due to travel restrictions. With SafetyChain, they can view the Environmental Monitoring and GMP audits for which they would normally have to travel. Thinking towards the future, they're preparing to request virtual audits to remotely assess their 600-plus supplier locations.
Sign Me Up
Join our list to get Industry Webinars Invites, E-Guides, Customer Success Stories, and More.