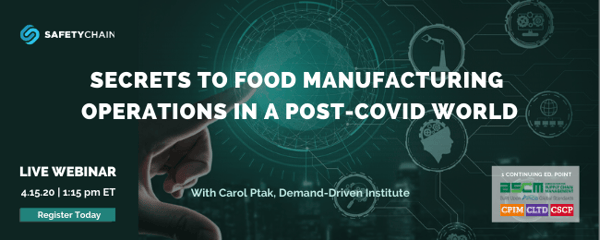 Reducing waste and improving yield are more critical than ever now, given volatile swings in demand and unpredictability from suppliers. Outdated MRP processes, rooted in assumptions and practices from 40 years ago, simply will not work in a volatile, variable, uncertain, complex world, worsened by the COVID-19 crisis. "Best practices" are no longer best - they are antiquated, and in many cases, inappropriate. You may look to your ERP for relevant information, but even today's more powerful ERP products are failing to deliver. Given all this, what are the secrets to thriving?
The answer is elegantly simple with long well-known roots, but requires a fundamentally different approach. Food manufacturers can take cues from leading consumer products companies around the world — techniques that have allowed them to slash time-to-market, improve customer service, lower waste, and better plan & manage their inventories — all at the same time. Join Carol Ptak from the Demand Driven Institute as she describes the shift from conventional to emerging principles of becoming a demand driven, adaptive enterprise.
In this webinar, you will learn:
Newly emerging, adaptive strategies to navigate demand planning challenges during COVID-19 recovery
Processes that quickly improve customer service levels
Ways to lower waste and inventories ... starting today
How to mitigate the bullwhip effect, giving Ops Managers keys to "roughly right" instead of "precisely wrong" planning
An operational approach focused on delivering real ROI for which your CFO will thank you!
About the Presenter:

Carol Ptak, CFPIM, CIRM
Partner, Demand Driven Institute
Carol Ptak is a partner with the Demand Driven Institute. She has held positions at Pacific Lutheran University as a Visiting Professor and Distinguished Executive in Residence and at PeopleSoft as a VP in its manufacturing and distribution industries, where she developed the concept of demand-driven manufacturing (DDM). Carol is a past president of APICS (the only woman to have served in that position) and has authored several books on MRP, ERP, Lean, and Theory of Constraints.